Post by goodwitch on Aug 12, 2017 14:17:34 GMT -5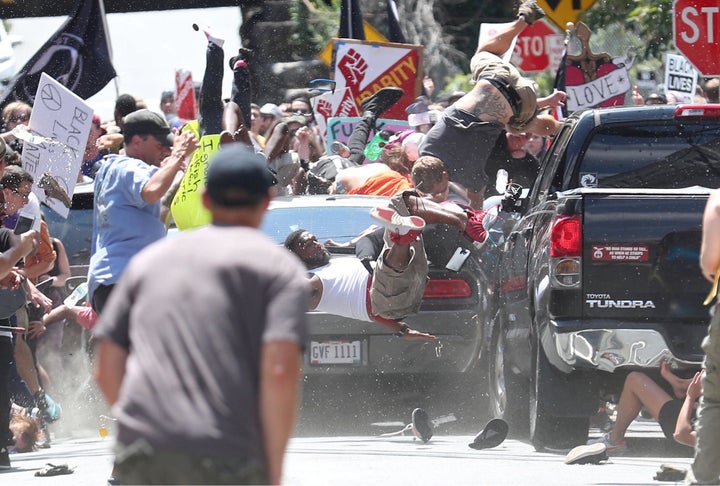 Ryan M Kelly/The Daily Progress
Anti-racist protestors were mowed down by a vehicle going at a high rate of speed during a white supremacy rally in Charlottesville, VA, Saturday.
Image from HuffPost
www.huffingtonpost.com/entry/during-racist-charlottesville-rally-car-plows-into-crowd-of-people_us_598f422fe4b09071f69a019e?ncid=inblnkushpmg00000009
Daily Progress also reporting: The victim who died was a 32-year-old female, Chief Al Thomas of the Charlottesville Police Department said at a news conference.
The Hill
By Brandon Carter and Max Greenwood - 08/12/17 03:28 PM EDT
The mayor of Charlottesville, Virginia confirmed that one person died after a car plowed into a group of counter-protestors during a white nationalist rally Saturday.
"I am heartbroken that a life has been lost here. I urge all people of good will--go home," Mayor Mike Signer tweeted.
Video footage showed the car plowing through a group of people protesters after police broke up clashes between white nationalist demonstrators and counter-protesters.
Also, two VA state police monitoring violence killed when helicopter crashes.
www.rawstory.com/2017/08/two-dead-in-crash-of-police-helicopter-covering-charlottesville-violence/

Washington Post
By Joe Heim, Ellie Silverman, T. Rees Shapiro and Emma Brown August 12 at 2:50 PM
CHARLOTTESVILLE — This picturesque college town devolved into a chaotic and violence state on Saturday as hundreds of white nationalists, neo-Nazis, Ku Klux Klan members — planning to stage what they described as their largest rally in decades to "take America back" — clashed with counterprotesters in the streets.
As the two sides traded blows and hurled bottles and chemical irritants at one another, police evacuated a downtown park, putting an end to the noon rally before it even began. Gov. Terry McAuliffe declared a state of emergency shortly before 11 a.m., blaming the violence on "mostly out-of-state protesters."
...
Despite the decision to quash the rally, clashes continued on side streets and throughout downtown. In the early afternoon, three cars collided in a pedestrian mall packed with people, injuring at least 10 and sending bystanders running and screaming. It was unclear if it was accidental or intentional.
www.washingtonpost.com/local/fights-in-advance-of-saturday-protest-in-charlottesville/2017/08/12/155fb636-7f13-11e7-83c7-5bd5460f0d7e_story.html?hpid=hp_rhp-top-table-main_no-name%3Ahomepage%2Fstory&utm_term=.e9b1eae7d9e7